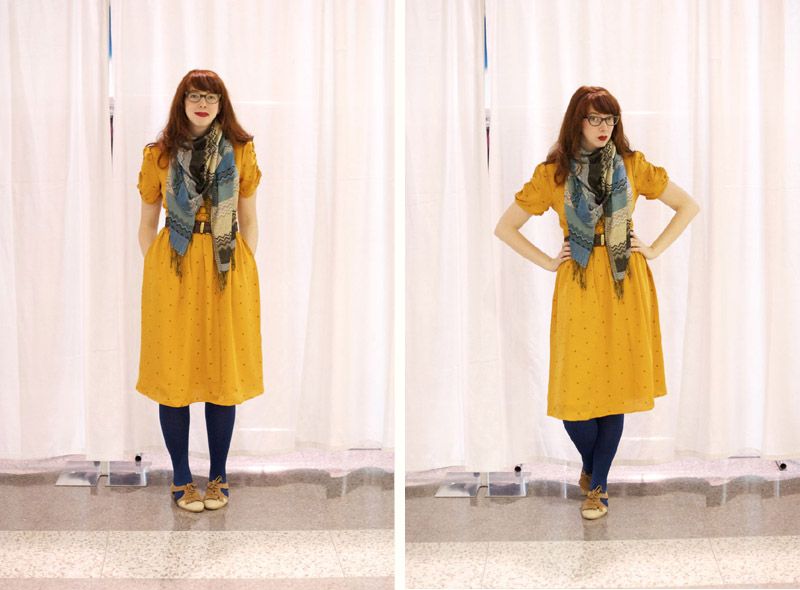 I know you were all just dying to see how I'd style my Marigold Dots dress from eShakti, hehe! Naturally, I ordered the dress about 3 weeks ago when it was still rather unseasonably warm out, and now it's a bit too cold for the deep V neckline of this frock, so I cozied (and covered) up with this blue and gold scarf! I love how the orange tones of the dress look with both the blue and the gold, so I have the feeling these may be worn together again. I was also sporting a cropped acid wash denim jacket, but I ditched it for walking around the One of a Kind Christmas Craft Show, where these photos were taken.
I was so happy with how light and swishy the dress felt on, and how nicely the silk falls. Oh yeah, you thought you could only get polyester dresses from eShakti? Let me make your day. This dress is a 100% silk outer shell, and it feels wonderful. They also stock lots of cotton garments (including a cotton poplin that looks quite nice!), so don't think you have to settle when it comes to the fabric. Never!
There was awkward vogueing.
The Deets:
Scarf: Garage Sale Find
Marigold Dots Dress: C/O eShakti (style sadly no longer available!)
Belt: Church Sale
Tights: HUE
Cutout Brogues: Jeffrey Campbell
Glasses: Vintage, Kingpin's Hideaway
I finally got around to getting my prescription put into these sweet frames this past weekend! I bought the frames at Kingpin's Hideaway (that's in the basement of Cabaret, my favourite vintage shop in Toronto) during Toronto's Vintage Crawl a few weeks back. The vintage crawl was great! Stores open late, special discounts, cocktails, and I just happened to be in town that night for an appointment the next day. Perfection. Plus, these glasses are really great for boring into your soul. Don't believe me?
PS. Don't forget, eShakti is offering 25% off everything in store until December 7th, if you're looking for a new frock for your holiday parties!
*** Dress Provided by eShakti for review

. All words and opinions are my own, and are completely honest. It's nice to be able to share a cool thing once in a while!***