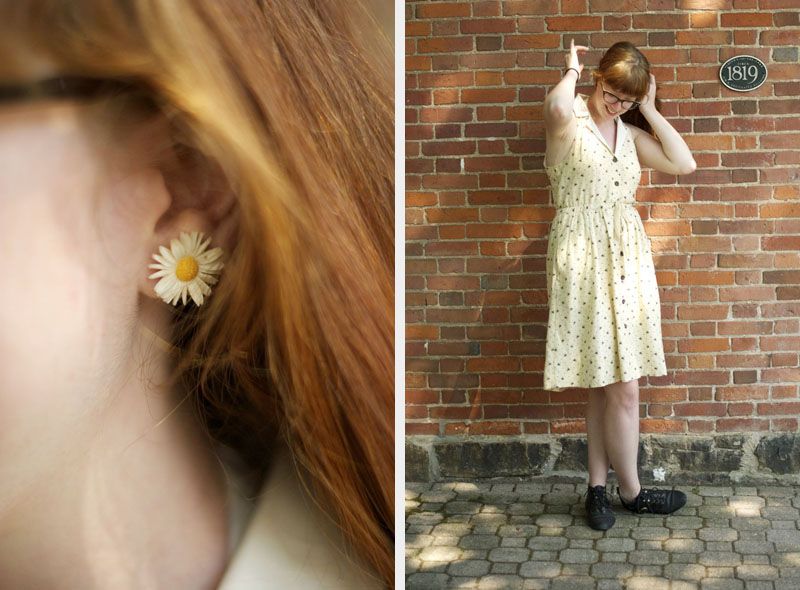 Ugh. You guys, it has been one hell of a week. I've been painting this floor cloth and doors for The Directors Project (I've been posting updates on the process on Instagram, link to my feed on the left sidebar), and MAN, nobody ever warns you how totally exhausting painting can be. Besides, this floor cloth is 38' wide, so these days have been very full of physical effort. Thank god I had some volunteers help me out for a couple hours!
Anyhow, I've been wearing my paint clothes all week, which means paint spattered cargo pants and whatever tank top I'm willing to sacrifice. It's a good thing I didn't have the energy (or care, whatever) to dress up at all this week, because it was so not happening. SO, here's a simple outfit from last weekend. I wore this to Rawstock, a raw, vegan, and alternative food festival in town. Turned out to be more of a lifestyle thing than a food thing, which really isn't my style (I don't even want my chakras aligned for free), and I suppose I was wearing a symbol of my persistent exploitation of bees (honey is delicious, I could never be vegan). Anyhow, not my scene.
But I love this dress. So. So. Much.
And these ivory antique clip on earrings are the perfect companion!
I'm not in love with how these shoes look with this dress, but they were the comfiest option for walking around town. I had been wearing my JC cutout oxfords earlier, and I just had to change out of them. I fear they may never break in. Boourns!
The Deets:
Glasses: Rayban
Earrings: Vintage
Dress: Anthropologie
Shoes: Jeffrey Campbell