A couple weeks ago I scored a box full of vintage clothes from work. I work in theatre, and people in the local area love love love to donate their old clothes (and most of the contents of their attics) to the theatre. Some of the stuff we can't actually use, however. Vintage clothes tend to need some fixing up (anything elastic in what I got is totally shot and needs new elastic, for example) and won't really hold up for 100 performances. Typically, we take vintage garments in to take them apart and create a pattern for a garment made with new material. Now, we're in the "off season", and the building is quiet, so when one of the wardrobe coordinators casually told me she's sorting through bags and bags of clothes from the 50s-70s that we didn't really need, I asked if I could take a look! She said I was welcome to whatever I wanted and OH BOY I took advantage! This dress was among the items I scored, and I have already worn it twice. I just love the big collar, and the front placket with buttons for show! It's thick, and rather warm for winter, since it's totally 100% plastic, hahaha. Needless to say, my boss totally made fun of me when he saw the box of amazing polyester clothes I scored. Hey man, I'm on a budget! Free clothes are ALWAYS a good thing (especially when they're so cute and roughly your size!).
Fact: 2 fringes are better than 1
The lesson to be learned here is: you never get what you don't ask for. My mother taught me that, and I'm slowly coming to realize how true it is in every aspect of life. Now, "asking" may not come in the form of "May I....", but in this case it did, and it worked in both my favor and the theatre's. They had less clothes to donate out, and I scored some amazing dresses and tops to keep me giggling insanely and out of thrift stores (HAH yeah right) for the next little while. Ask, and ye shall receive. I love it!
Speaking of loving, I am head over heels for this Amanita Muscaria pin from artist Margot Jenner. I met Margot at City of Craft and I just had to have this brooch! Good thing I snapped it up, because she's totally sold out! She's promised to let me know when they're back in stock, so I can pick another one or two up, to use for my first giveaway. because giveaways are fun and cute stuff is awesome. Here's Margot's Blog and Shop if you don't want to wait around for the giveaway in January!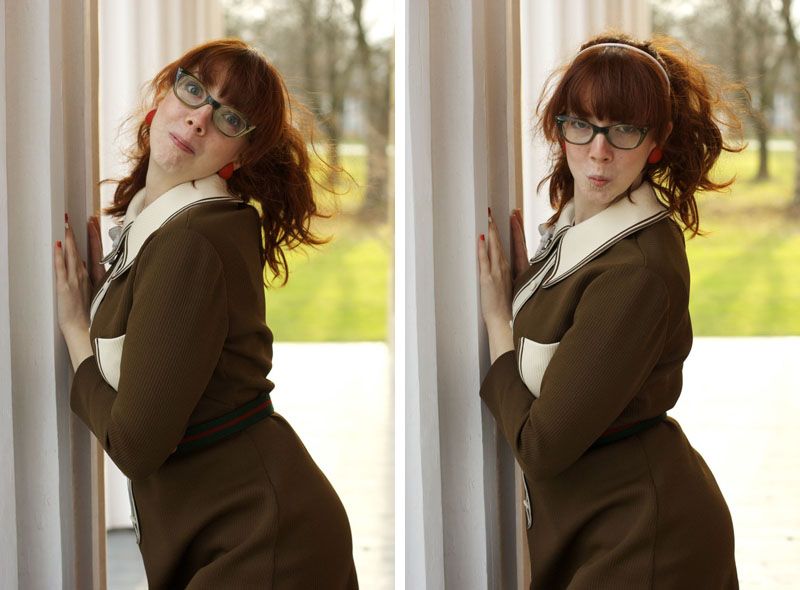 Clip-on Earrings: Thrifted
Boots (My favourite pair!): Vintage, Kingpin's
Jacket: Mango (years ago)
Purse: Betsey Johnson (even older!)