Howdy folks!
I am back in the Niagara region for a short while to recharge (and repack!) before heading back to Toronto.
I thought I'd share some photos from my recent Ottawa getaway in a couple different posts, each centred on a different time or theme. This post is on the most important part of any vacation, the food. Yes, now you truly know me, I like good food whether at home or away. Okay, especially away, it's kinda nice to try something wild you may not get the chance to eat again, don't you agree?
Naturally, I managed to get very sick the night before we flew to Ottawa, so some of my meal choices were exceedingly boring (a small bowl of potato leek soup for dinner... does it matter when you can't taste anyway?), but there were 2 places we went in particular that I would love to return to. Okay, enough jabber, onto the attempted food photography!
Our first day in town we went to Green Earth Vegetarian Cuisine. It was awesome. The Thom Yum soup really hit the spot (haha the spices may have loosened the sinuses some....yummy...), and I always appreciate a place where I can eat anything on the menu. My Mum tends to research vegetarian or vegan restaurants in any city we visit, and this one was a total winner. I definitely recommend it if you're in the area!
We also enjoyed the crispy wantons with sweet chili dipping sauce, and the summer rolls with jicama and vegan "ham" with a peanut dipping sauce, pictured below. We arrived toward the end of their lunch sitting (they also do an all you can eat buffet, which were I in better health I may have been inclined to try), so the place was really quiet, but service was fast and friendly, and the food really was very good. The restaurant errs a bit on the lifestyle side of things, and handed out a pamphlet on the environmental and health benefits of a veg*n diet with the cheque, which I am sometimes a bit iffy on (not much of a preacher), but they were also doing a special thanksgiving dinner with whole tofurkeys, so I'll let it slide.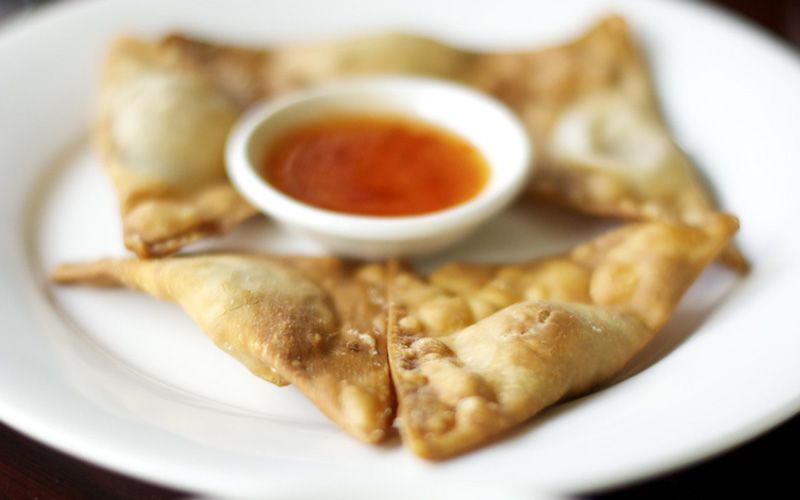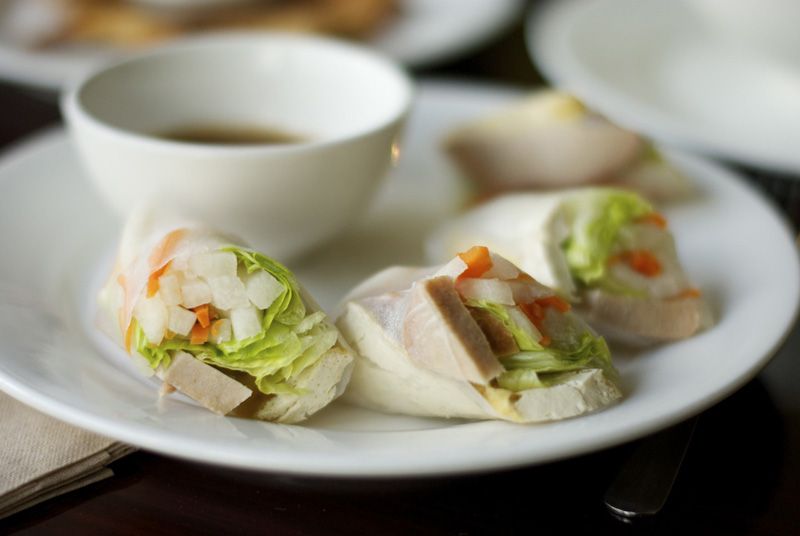 The following day we ventured into ByWard Market for breakfast and just to see the sights. My grandfather travels to Ottawa for business on the occasion, so he has a couple places he likes to go when he's in town. Benny's Bistro in Byward Market is one of them, and it's a place I need to return to too! I got the french toast with poached pear. It was amazing. It was only 3 pieces of baguette but it was so rich I actually had to surrender before I could manage the last few bites. I want this to be the last thing I eat before I die. I'm really passionate about breakfast you guys.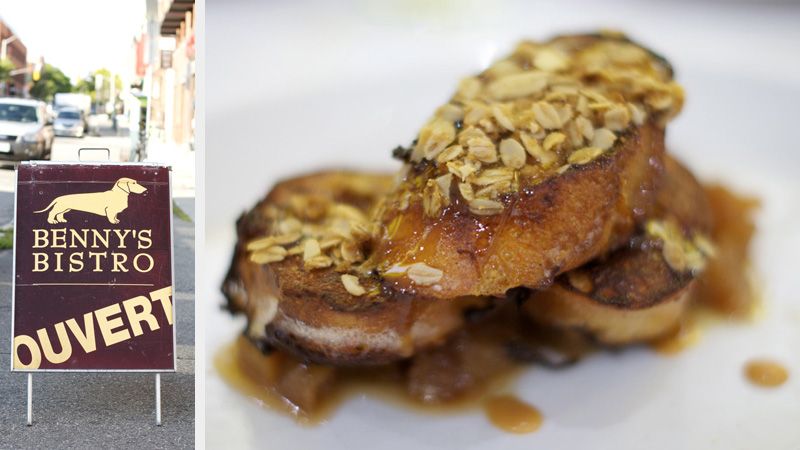 The location is super cute, if not absolutely roasting inside (jackets and cardigans were promptly removed!). The front portion of the building is a french bakery, with the back room serving as a bistro. Everything looks, and almost certainly is, ridiculously delicious. Also the place's mascot is the owners Daschund. Sign me up.
I'll be posting the other photos from Ottawa over the course of this week, in a 3 or 4 part series depending on how poorly I edit down the nearly 300 photos I took, hah! So stay tuned, there's some god lookin' stuff on its way (some more of which is just as delicious looking as these pics!)