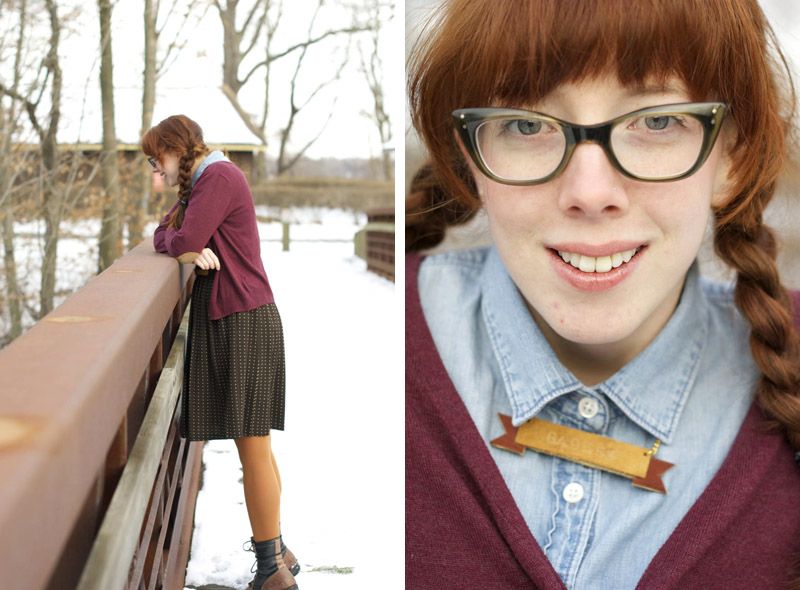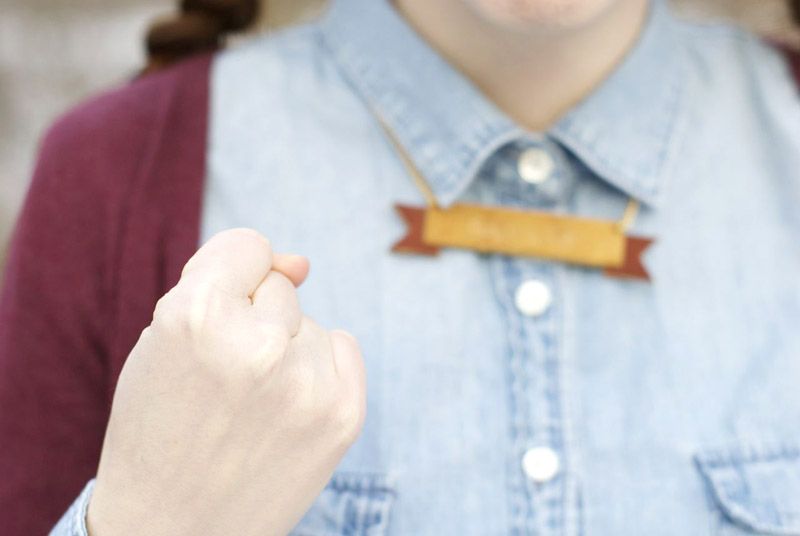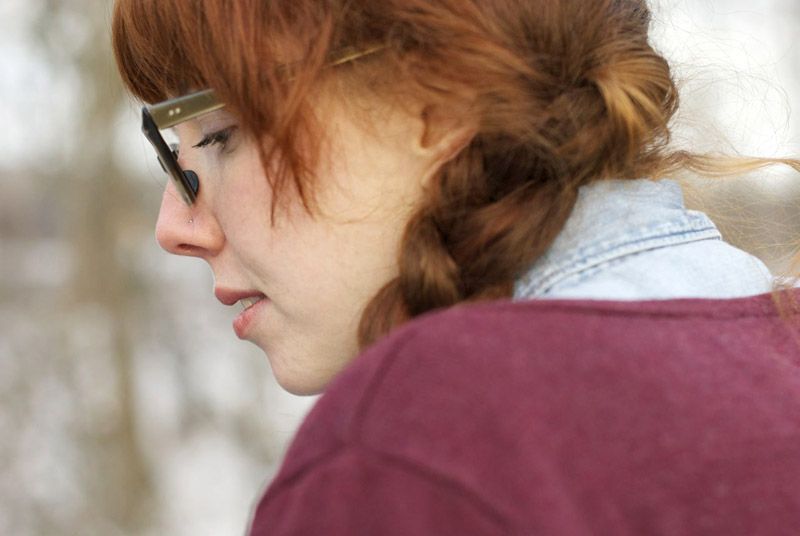 I took these outfit photos half an age ago (I'm SO behind!), and though this was my first time using this bridge as a background, I just absolutely adore it!! I like having something to interact with while taking photos, and I think that the shots turned out really pretty. I really need to venture beyond my front yard a bit more often, as comforting as the shelter of my hedges may be!!
This chambray shirt has been an absolute favourite of mine since I picked it up last summer. I had been on the hunt for a light denim shirt for a couple years, and finally found this perfect one at J Crew. At the time I was a little sore about the price, but as it has become a staple in my wardrobe, I got over it pretty quickly. It's perfectly light for the summertime, but paired with a cardigan shapes up nicely for the winter. Plus, it looks totally awesome with a bow tie. Yeah, I'm in love. I'll quit gushing about it now. Just know that while you've seen this shirt a few times already, you'd better believe you're going to see it again. I'm obsessed.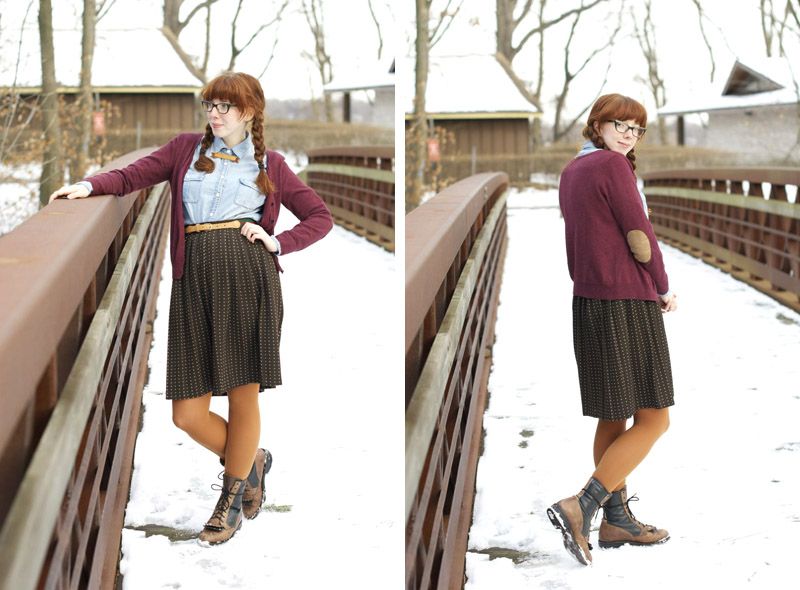 I scored this skirt as part of that big donation that the theatre couldn't use, which I talked about a bit here. I can't wait for warmer weather, so that I can bust out some of the more ridiculous pieces!! The skirt is 150% polyester, like most of the items in the donation, and I'll be honest: I kind of love it. It's just so bloody easy to wear!! And the wee little polka dots are so charming. I own so many polka dotted things, and it's just never going to feel like I have enough.
The warm colours in this outfit made it seem a perfect opportunity to debut this necklace!! Let's just say, that this here necklace may have something to do with my upcoming very special announcement. I was so excited to pick up a set of letter stamps to do a bit of embossing, and naturally, I had to put something a bit cheeky on my personalized little banner. So, I proclaimed myself a BADASS. I like it. A lot. I've got a pile of these bad boys just waiting to be custom stamped and sent off to their forever homes (a phrase which makes me think of the humane society), and I simply can't WAIT to open shop. Soon, soon.
Elbow Patch Cardigan: H&M (Remixed)
Custom Embossed Banner Necklace: Premonitory Dreams (Coming Soon!!!)
Now as a bit of a bonus, here are some pictures illustrating how unbelieveably cold it was while we took these photos, and what my REAL face looks like when I let down the human facade. I do not like the cold. Well, scratch that, I do not like being inadequately dressed in the cold. Not cool, man, not cool. In fact, very cold. That wasn't funny. But my face below, is. So, enjoy!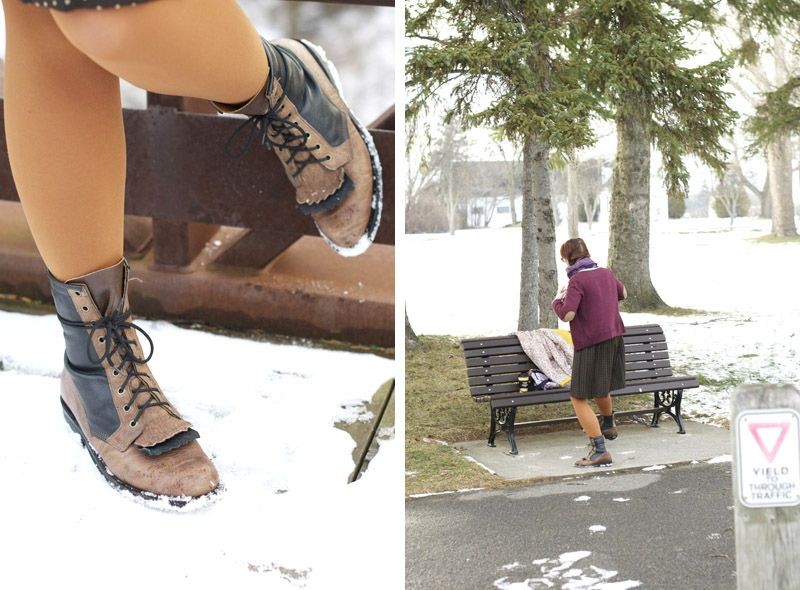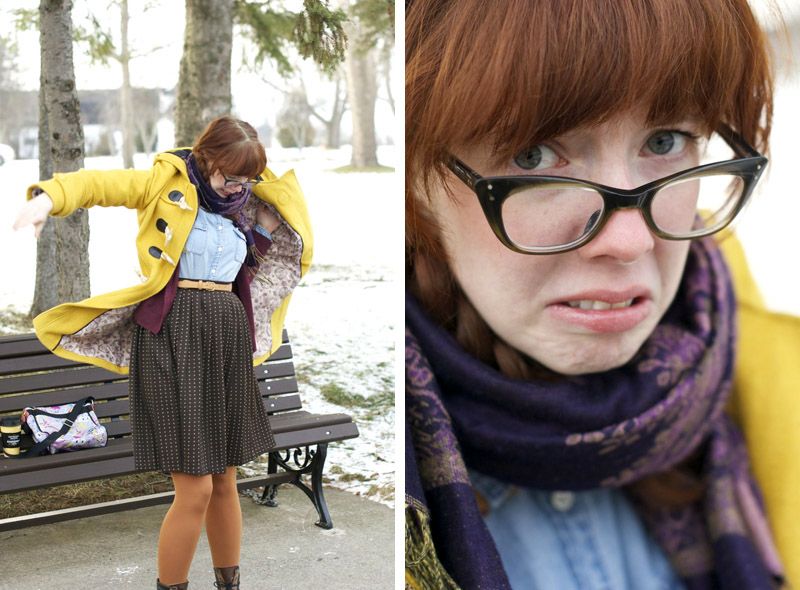 I hope you're having an excellent Monday! I'm spending the day running around town trying to source some model building supplies for a project I'm working on. All I can say is, so many tiny trees!!! They're way adorable, heehee!!
--Erin