My god, the last month has been a BIT insane. I'd like to say that I've come out the other side, but truth be told, things are still crazy as I have another deadline looming only a week away... eek! Lately it seems like there is never enough time in the day, and I'm fighting hard to keep my stress levels in check.
The last month has seen: A whole WHACK of sewing. If you follow me on instagram, you saw many pieces from The Lover in various stages of completeness! I'm hoping to compile those images for a more in depth post here, soon. As much sewing as I did for other people, I have been itching to make myself a little something for the car show this coming weekend. Hmm.. maybe I'll cut out the pattern tonight! Guess it's time to see how much overworking the last month has paid off in terms of work ethic and "enjoying" the process of sewing (let's be real, it's all fun and games until something doesn't line up, or you snip the wrong bit, or something else goes wrong!).
On that note, this month has also seen The Lover open AND close in Toronto! It was a great short run, and I got all dressed up for opening night and had a great time. It is always a pleasure to work with talented people. I took the production photos, and I'll be posting a mess of them later this week.
Boy, everything seems to lead so nicely into the next point! Speaking of photos, I took the plunge and upgraded camera bodies last week. It was a move I had been contemplating for a long time, and I am so glad I moved up to a full frame camera with the Nikon D600. I purchased my camera from the Henry's Outlet Store, which sells exclusively used merchandise. My camera was "open box", and in factory new condition with every bit of plastic sleeve and paper you could wish for. They can't tell you the history of the camera, but my guess is somebody bought it and took it right back! I hunted around a lot, and I am really happy with my "used" purchase - and the loads of money it saved me. Looks like I can go in for some reflectors with that money I saved, and look into shooting some portraits for a little money to save up for my next piece of kit.
It hasn't all been work work work (mostly, though, it has) and I headed up North to Ephraim's parents' house for a couple days. I was terribly useless while there, and ate all of the things and slept a lot and drank tea basically constantly. It was awesome. I am definitely bringing Ephraim's parents something nice when we head back up in October though, because I certainly could have been more helpful! When I wasn't eating or chatting or owning everybody in "Clue", I was vying for world domination in Civ V. Yes, I played video games in cottage country, and no, I am NOT sorry! I tell you what I DID do up north though, is take a lot of pictures.
I even dragged my ass out of bed at 5:40 am to photograph the sunrise. I know, I couldn't believe it either, but I have the photos to prove it happened. Some big ol' rainclouds moved in and ruined the beautiful light, but I did manage to capture some moody skies to share with y'all. And I'll leave you with that.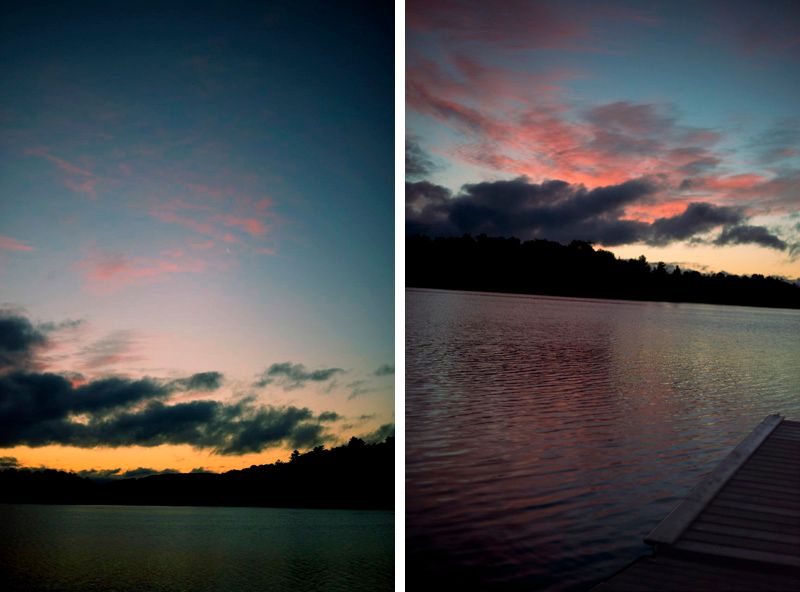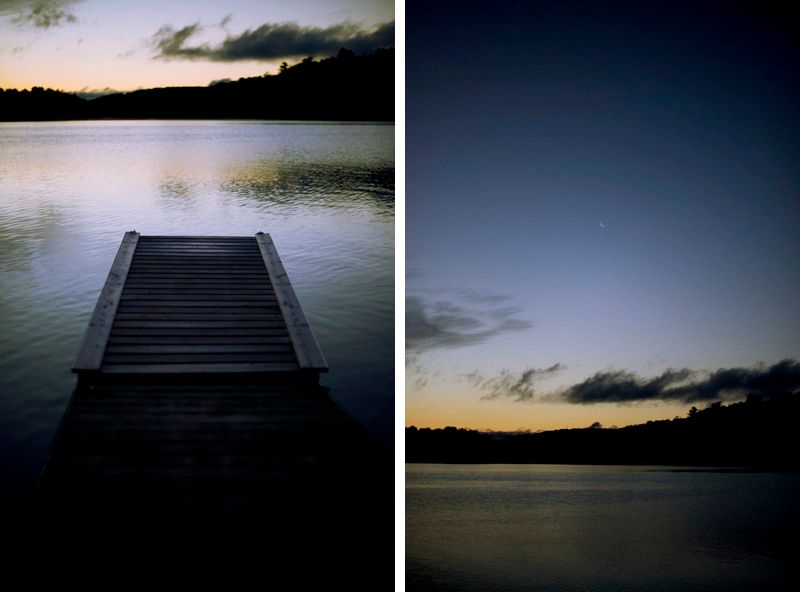 I may not be in the clear just yet, but I'm feeling recharged. Typing a bit about all the good things this month has brought makes this next week feel a lot more doable.