My obsession with making my own wall decals began nearly 4 years ago.
In my second year Intro to Design class, we had been tasked with building a scale model of our bedroom. This was my first model making experience, and I would never have believed it would become such a big part of my life! But I digress. Being a beginner maquette (that's French for "model". You learned today!) builder, I used Foam Core to build the walls and floor, which put me in an awful position when it came to painting. You see, foam core has the nasty tendency to warp like crazy when you get it wet; painting it, for instance. Hmm thought I. A giant sticker would really make painting the foam core easier. It wouldn't warp, and you could trim it down after it's been applied! Yeah. No Duh. But where to find such a thing?
As it turns out, any hardware store.
People of the internet, that gross floral stuff lining your kitchen drawers is gross-floral-by-the-metre-GOLD. Contact paper, or "adhesive drawer liner" is a giant sticker roll. It comes in many patterns and finishes, and takes paint like a dream if you want to get real fancy (I usually do!).
It sticks to your walls, but is easily removable and leaves no marks behind.
Shit son, that sounds JUST LIKE the wall decals you see for $60 a pop.
You can make them, at home, for roughly $4. And it's stupid easy.
Yeah guys. Contact paper is amazing.
All you need is:
Contact paper prepared in the colour/finish of choice
Scissors
A cutting mat, ruler and olfa knife
A marker
A template, cut out of card stock (or equivalent weight paper).
A ruler. Never underestimate the power of perfect straight lines!
Design a template for repeating patterns (you can do bubbles, birds, anything you like!). If you're doing things like trees, you are best off freehand sketching. In this instance, I made a template of the shape that I then cut out at specific intervals to create my pattern.
Trace your template on the backing of the Contact paper. The wax paper backing is usually gridded out, which is helpful for keeping corners square.
Cut out your shapes. I recommend using a ruler and knife for straight edges, and using scissors for curves.
Peel off the backing, stick, and enjoy!
You can rearrange the decals as often as you like! I have actually had some of my decals in a total of 3 different apartments over the years!
Your decal may be the positive space or the negative space of the image, depending on your taste. I used the negative space to create a headbaord for my bed, and I am so pleased with it! I have never had a wooden bed frame, and this sticker helps to crate focus and a sense of grounding in the room. I used the positive space of the shapes to create a feature wall in my living room. I won't post pictures of that now, as that wall is going to have to serve as the backdrop for outfit posts through the winter and you'll be sick of it soon enough!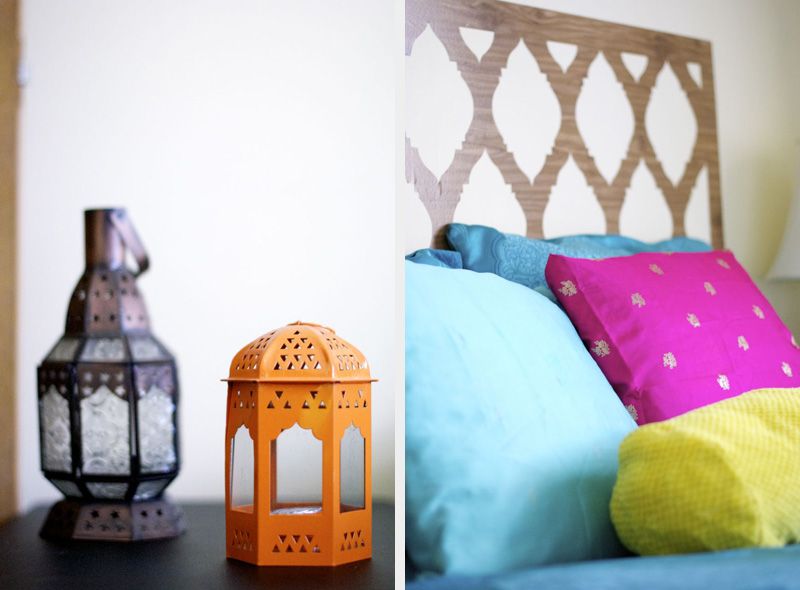 What will you make out of contact paper?
--Erin