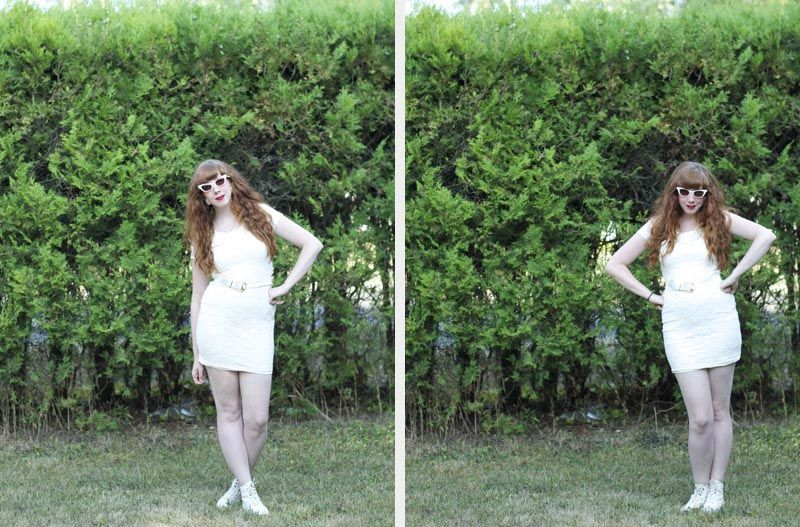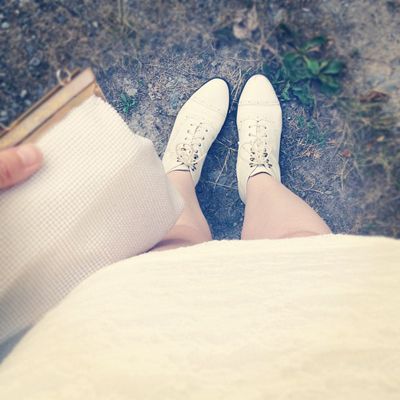 The Deets:
Sunglasses: Vintage
Earrings: Vintage
Costume Pearls: Gift
Belt: Thrifted
Lace Jersey Dress: H&M
Ankle Boots: Vintage
Beaded Clutch: Vintage
This was the outfit I slapped together for
Dîner en Blanc
in Niagara on the Lake the other night. I don't really wear any white because I am so pale, so I hit the malls last Saturday to find something to wear. I was almost out of options when I found this lace jersey dress at H&M. All white, inexpensive, and I can dye it and/or repurpose it after the event. Score.
The sunglasses were also purchased this past weekend, at the St.Lawrence Antiques Market. We had some time to kill before a movie, and Ephraim spotted these. They're a mother-of-pearl-esque look, with rosy lenses; uhmazing. Also they were $16. BEST EVER! This is my second pair of vintage sunglasses, and I must say I'm quite smitten!
Do any of you like to wear vintage sunglasses, or have prescription lenses in vintage frames? I think they make such a great statement!
--Erin