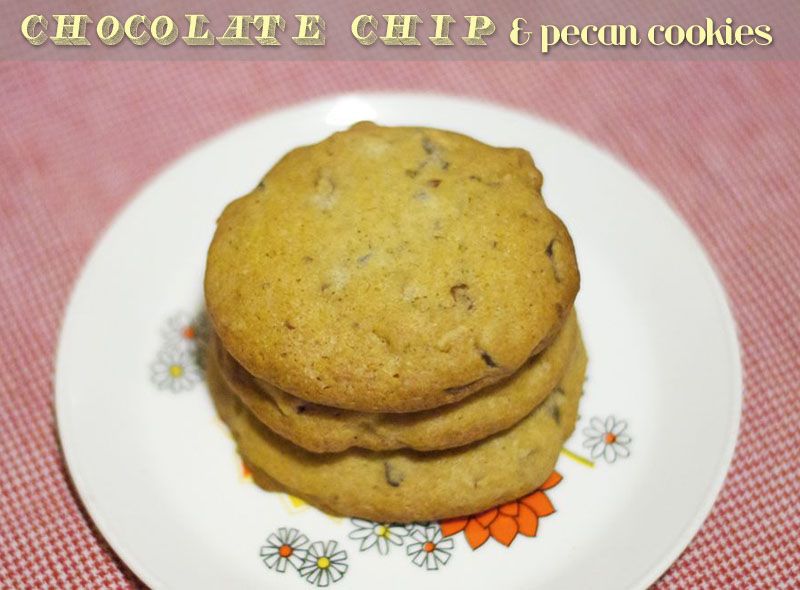 We've had our fair share of rain in these parts lately. To combat the gloom I whipped up a batch of these cookies. t certainly did the trick, and I happened to already have all the ingredients in the house. Hooray!
1 1/2 cups pecans
1 stick unsalted butter, at room temperature
1/2 cup firmly packed dark brown sugar
1/2 cup granulated sugar
1 large eggs
2 tsp vanilla extract
1 cup + 1 Tbsp all purpose flour
1/2 tsp baking soda
1/2 tsp salt
1 1/2 cups chocolate chips
1. Preheat oven to 350 degrees. Arrange nuts in single layer on baking sheet and toast in oven 5-7 minutes, until golden brown and aromatic. Cool the nuts and then coarsely chop.
2. Line baking sheets with parchment paper.
3. Cream butter & sugars on medium speed about 1 minute, until fluffy.
4. Add the eggs and vanilla and beat on medium speed for 1 minute.
5.Add flour, baking soda and salt. Mix on medium-low speed until incorporated.
6. Add in nuts and chocolate chips and mix well.
7. Drop dough onto prepared baking sheets. Bake 10-12 minutes, until cookies are medium-brown around the edges.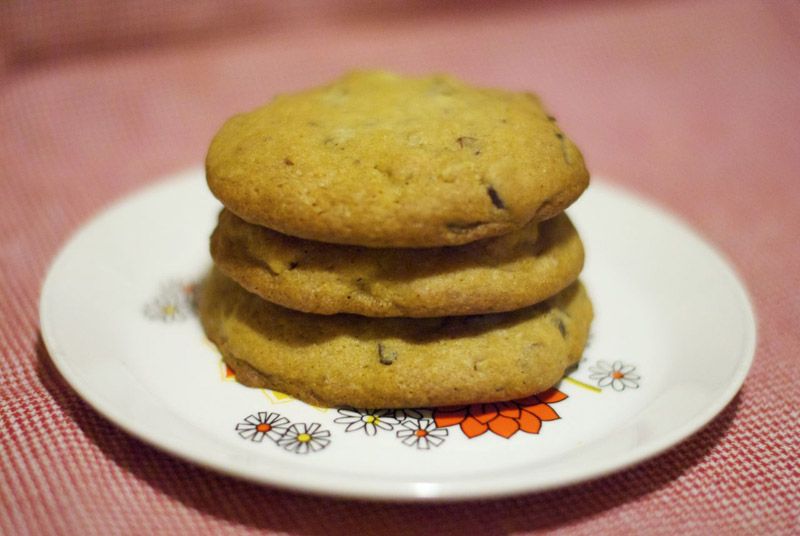 I have been making an effort to cook more, and thus have decided that for the month of November, I will not be going out to restaurants (with the possible exception of my Grandfather's birthday dinner in a couple weeks). I hope this pushes me to learn a few new recipes, and carry over the good (money saving!) habits into the coming months. And forever. I hope. What this means concerning this blog, is that I will be posting more recipes this month (and hopefully in general in the future!) for you to make at home and enjoy.

Or just look at the pictures.
No judgment.
Happy baking!
--Erin