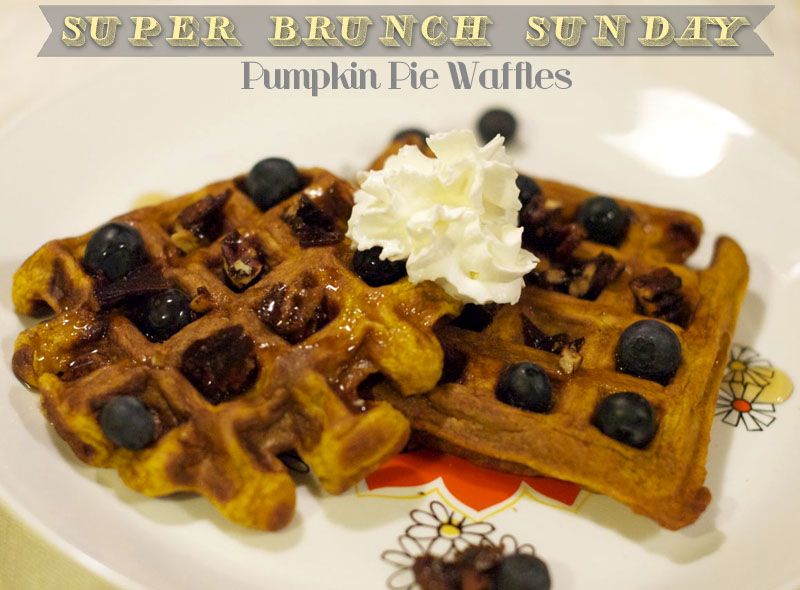 I know, it's Friday. Well, Super Brunch Sunday is going to be my Friday post for the next couple weeks. *GASP* a regular feature?!! Crazy, I know, but this is happening!! I'm doing these brunch recipes on Friday, so if you're like me and shop for the weekend on Friday night or Saturday morning, you can pick up what you need to make this weeks recipe on your weekend grocery shop.


As you know, I am not going out to restaurants for the month of November. If that's news to you, you can
read about it here
. One of my absolute favourite meals to go out for is breakfast. Ephraim and I can get whatever we want, including meat for him (which I seldom make at home). Giving up brunch was just not really a thing I could do for a month.
The only solution is to make an elaborate brunch at home each week, in place of going out. I'm calling it Super Brunch Sunday.
The debut recipes for Super Brunch Sunday are Pumpkin Pie Waffles and Spiced Candied Pecans, which were used as a topping!
I recommend you make the pecans ahead of time. But not too far ahead, or you'll snack them all away. They're shockingly addictive!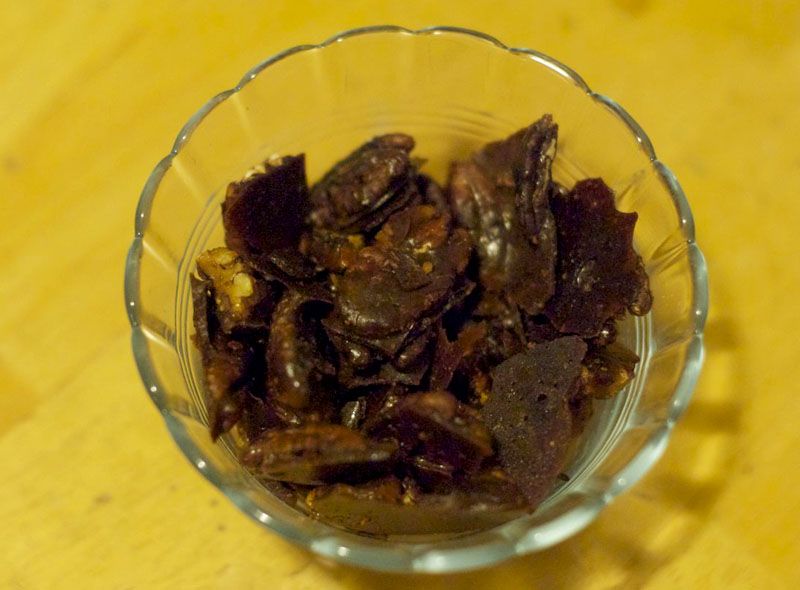 Spiced Candied Pecans (from Martha Stewart)
Ingredients
1 pound unsalted pecans
3 tablespoons unsalted butter, melted
4 tablespoons pure maple syrup
1 tablespoon light-brown sugar
1 teaspoon fresh chopped thyme (optional)
1 teaspoon coarse salt
1/4 to 1/2 teaspoon cayenne pepper
Directions
Preheat oven to 375 degrees. Place all ingredients in a large bowl and toss to combine. Spread nut mixture in a single layer on a rimmed baking sheet lined with a nonstick baking mat. Bake, stirring frequently, until browned, 12 to 15 minutes; let cool. Pecans can be stored at room temperature in an airtight container up one week.
I like to chop some of the candied pecans up before using them on waffles. They're good halved in a salad as well!!
Alright, on to the really good stuff. I was originally just going to make pumpkin waffles following Smitten Kitchen's
recipe
. I ran short on time and had to go to the corner store for a couple ingredients and had to substitute pumpkin pie filling for the pumpkin, sugar and spices in the original recipe. I don't know how the originals taste, but this was
delicious
. Like, really good. Here's Smitten Kitchen's recipe, with my substitutions at the bottom!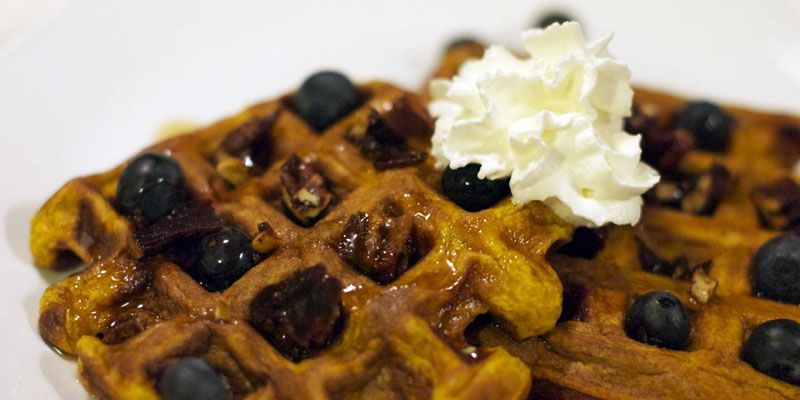 Pumpkin Waffles (Smitten Kitchen)
Ingredients
2 1/2 cups all-purpose flour
1/3 cup packed light brown sugar
2 1/4 teaspoons baking powder
1 teaspoon baking soda
1/2 teaspoon salt
2 teaspoons ground cinnamon
1 teaspoon ground ginger
1/4 teaspoon ground cloves
4 large eggs, separated
2 cups well-shaken buttermilk
1 cup canned solid-pack pumpkin
3/4 stick (6 tablespoons) unsalted butter, melted
Vegetable oil for brushing waffle iron or cooking spray
** for Pumpkin Pie Waffle variation, substitute canned pumpkin, sugar and spices with a can of pumpkin pie filling (because the corner store didn't have those other things. And this was TASTY!)**
Directions
Preheat oven to 250°F and preheat waffle iron.
Sift together flour, brown sugar, baking powder and soda, salt, and spices.
Whisk egg yolks in a large bowl with buttermilk, pumpkin, and butter until smooth.
Whisk in dry ingredients just until combined.
In a mixing bowl with a whisk attachment, whisk the egg whites until they hold soft peaks. Fold them gently into the waffle batter, until just combined.
Brush waffle iron lightly with oil and spoon batter (about 2 cups for four 4-inch Belgian waffles) into waffle iron, spreading quickly. Cook according to manufacturer's instructions.
Transfer waffles to rack in oven to keep warm and crisp. Make more waffles in same manner.
Top with blueberries, spiced candied pecans, maple syrup, and a dollop of whipped cream. This is pumpkin pie, after all.
So, what are you making for brunch this Sunday?