Last weekend's brunch was sooooo good. The perfectly cooked buttermilk pancakes (thanks to Ephraim!), topped generously (I may have added more after these photos, that stack got messy) with warm, gooey, cinnamon loaded apples. It was like pie filling, but better, because it obviously used to be something that's good for you. Used to be. But that time had long since passed. YUM.
Buttermilk Pancakes (modified from Fannie Farmer's 1945 recipe) Serves 2
Ingredients
1 1/2 cups flour
2 1/2 teaspoons baking powder
3 tablespoons sugar
3/4 teaspoon salt
1 egg, slightly beaten
3/4 cup buttermilk (or more)
3 tablespoons melted butter (or vegetable oil)

Method
Mix together the dry ingredients.

Add the beaten egg and melted butter and stir vigorously, adding more milk, if necessary, to make the batter just thin enough to pour.

Drop by spoonfuls or pour from pitcher onto heated and greased griddle or frying pan using medium heat.

When full of bubbles and the underside is browned, turn and brown the other side.

Serve with maple syrup and additional butter (and apple topping. Come one now.)
Ingredients
2-3 apples, peeled and chopped
1 tablespoon butter
2 tablespoons dark brown sugar
2 heaped teaspoon cinnamon
1/2 cup of water
Method
In a skillet, on medium heat, melt the butter.

Pour in the apples, and saute until just tender.

Add in the sugar, cinnamon and water.

Continue cooking (and stirring) until it reaches a syrup-like consistency.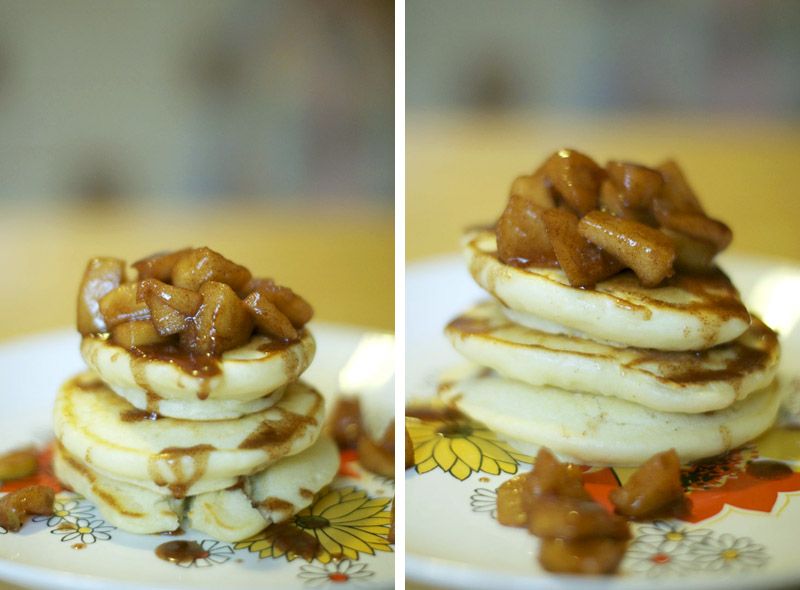 If you like the plate, I won't tell anyone. I was pretty tempted with this one! And I am happy to report that the leftovers were SUPERB brought in to work to eat at my desk a few days later. You'll want to double the pancake recipe though!

What are you making for brunch this weekend?