*** First, a quick notice. I have made the blog more narrow for easier viewing for those with smaller screens. All images can be clicked to enlarge. I am going through the archives to do a rough resize, but it will take some time. Please leave a comment if you see a particularly egregious formatting error. Thanks for your patience!***
I finally took the plunge and dyed my hair dark! I have always envied those girls with dark beautiful auburn hair, and now I walk among them. I was going on two years since my last professional haircut, which is obviously really long overdue. I can't believe how light my hair feels. Or how confident I feel to style it! Turns out I had no idea what to do with my hair simply because there was too much of it to really do anything with. Well, unless I wanted a style evocative of the trends of the Victorian lady, which, no. Point is, I am so so happy with my new hair. The cut and colour look amazing with my new frames (not pictured, I am taking them to get my prescription put in next weekend), and I am really pumped to do a bit of retro styling in the coming weeks. Exciting times, friends! Okay enough blabber, more glamour. (HAH)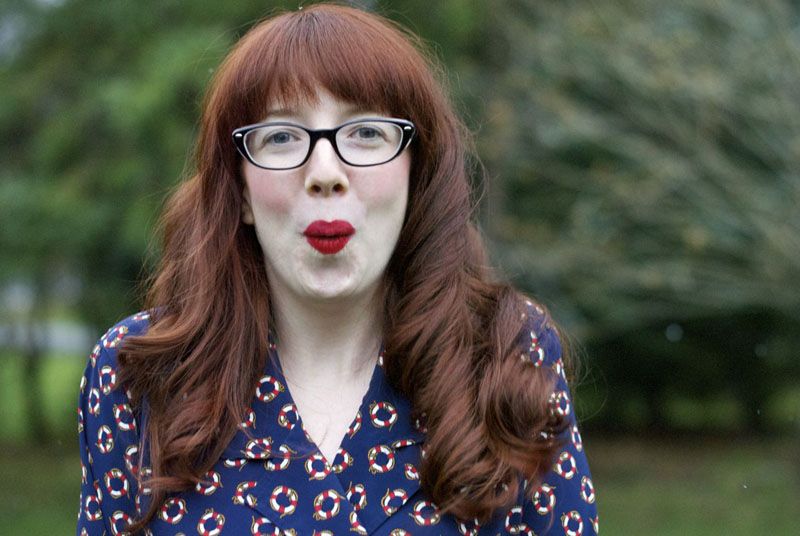 It was snowing and I was FREEZING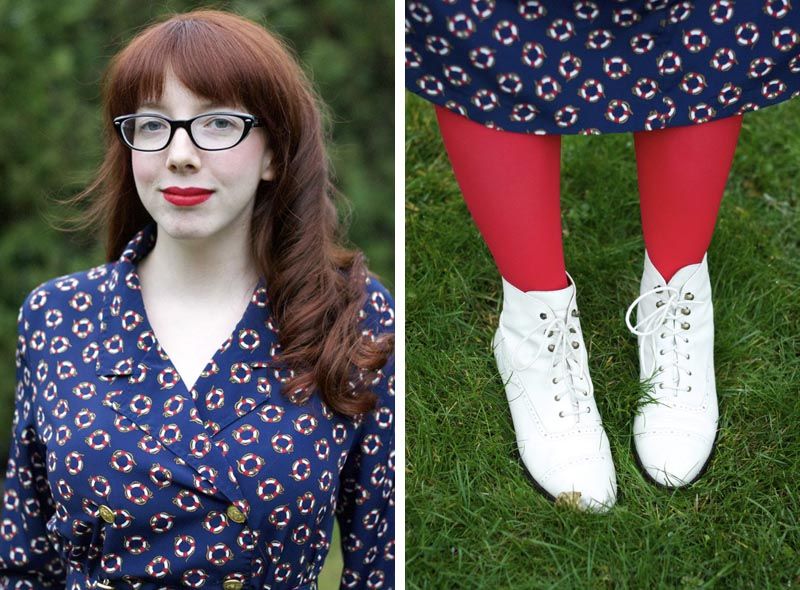 I picked this dress up from the Goodwill last week, and took a bit of a gamble on it. I basically had to be in and out of the store pretty quick, so I bought it without trying it on. It's a petite 10, neither of which are sizes I wear, but it actually worked out pretty perfectly! To be fair, some of that may be because I can cinch the waist in with that amazing self-fabric belt, but all in all I'm calling this a win. And I'm glad it worked out, because thrifting is getting expensive! All the dresses I saw at the Goodwill were marked at $10 (well, $9.99 to fit in with their weird palindrome pricing). It's not so easy to pick up whatever looks interesting anymore, but on the same note, my closet is way too full already. I suppose I'll have to learn to be more picky, hard as it may be! Have you found thrifting in your town to be becoming more costly, too?
It has pockets!
Nautical Print Dress: Thrifted
White Leather Ankle Boots: Vintage
Bracelet: Betsey Johnson (gift)
What hair colour have you always wanted to try, but never worked up the nerve? Give it a shot, it's only hair!!
--Erin