I hope you're all having a good week. I'm pretty pumped that this week is coming to a close because then I get to hangout with mah boyfraaan. We haven't seen each other in a couple weeks, so this is exciting, people!!
Ephraim is kind of the topic of today's post. I may not have mentioned this in so many words, but the boy keep himself busy being an actor for film and TV (if you think he looks familiar and you're between the ages of 14 and 25, yes, he was on Degrassi and yes, he did shoot Drake).
A couple years ago he played the lead in a web series called Seth on Survival. The show is about a monster expert (Seth), creating his own web site and video series in his mothers basement, in an attempt to keep the masses safe from attacks by supernatural predators (mostly zombies). And while I probably should have shared this before Hallowe'en, I think the show is hilarious and can be enjoyed anytime. Here's the first episode, take a look!
Honestly, Seth is my favourite character that Ephraim has portrayed (yes, more so than the character he was portraying when we met. That dude was a weirdo!), and it's great that this level of horror and sci-fi is totally appropriate for kids. The creators of Seth on Survival,

Torin Stefanson and Teri Armitage

, created another series called My Lupine Life, which takes place in the same universe as Seth. In fact, Seth makes a guest appearance in one of the episodes! But even greater, is that Seth's part in My Lupine Life, was written by Ephraim. The writing team (Torin, Teri and Ephraim) won an award at LA WebFest for writing in a horror/sci-fi series. AMAZING.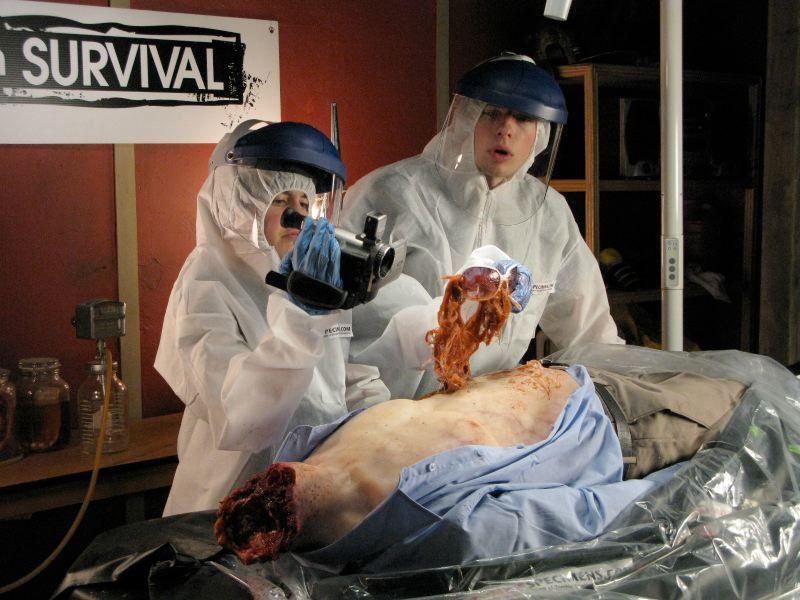 Examining the contents of the zombie's stomach. It appears he recently ate Paris Hilton.
The creative team is always working, sending out tweets in character, maintaining the websites, and working at generating more content. Actually once "Seth" tweeted me, it was very surreal. So if you liked what you saw, please share it around. It would be great for this independently produced series to get the recognition it deserves! Plus, you know, I'm awfully proud of Ephraim, and I wanted to share!