First of all, thank you all for your kind words about my Bubba. Her funeral was beautiful, and you could hardly find a place to sit during the service at the funeral home. My little sister turned to me and said "who ARE all these people??" I told her they were Bubba's friends. "Wow. She was POPULAR". She was clearly well loved. I was thrilled to have the chance to look through the albums of old photos she had kept hidden away from us out of fear of what would happen to them! Turns out my Zaida was a ridiculously good looking fellow in his day. The more you know.
Anyhow, one of my goals for this year is to successfully complete a 365 project. Since Ephraim bought me this super sweet Olloclip iPhone lens for Christmas, I was inspired to do a 365 project of only iPhone photos. All photos for the project must be shot and processed entirely within my phone (well, phone attachments count, but you get the point). I'm hoping to see how far I can push the limits of my dinky phone camera. Plus, creating art with something manufactured for functional, rather than creative means, is pretty neat. I'm giving each photo a title, and am going to print them all if I manage to complete my task at hand!
Click to enlarge the photos for better resolution.

1// A Fresh Beginning 2// Feeling Like A Fish 3// Line, Line, Everywhere A Line

4// A Field Of Daisies 5// On The Road To The Emerald City 6// Collars and Constellations

7// Torture Device 8// At The Foot Of The Colossus 9// A Spire To Greatness

10// If You Squint Hard Enough, Even Traffic Is Beautiful 11// Doesn't Fall Far From The Tree 12// Here They Come To Save The Day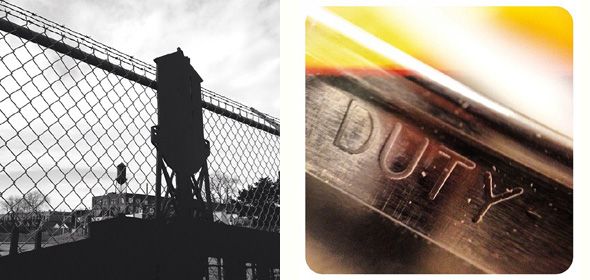 13// Art Imitates Reality 14// Do Your Duty
Are you doing a 365 project? How are you keeping up with it so far? Do you find you need an alarm or a special reminder to make sure you complete your entry for each day?
--Erin