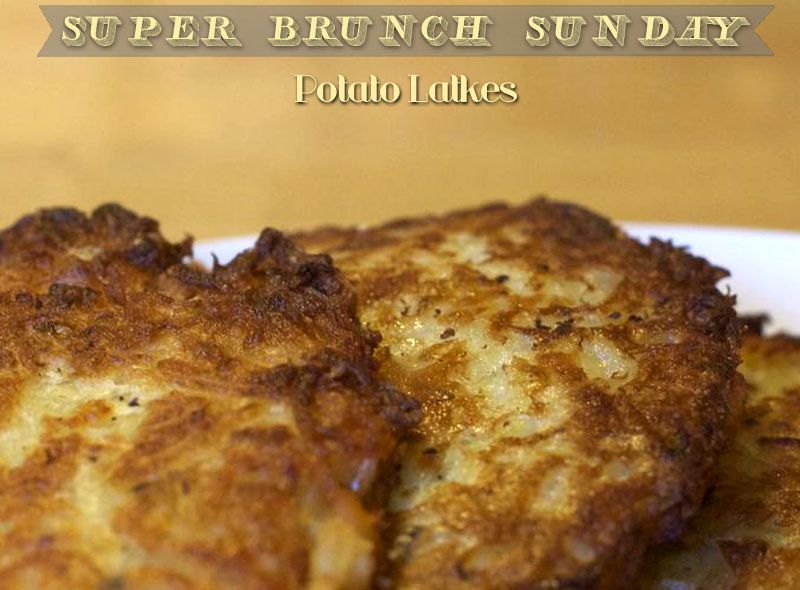 I know, I'm a couple weeks late on this one, Channukah is already over! Well, though I made these to enjoy on the last day of Channukah, I firmly believe that no occasion is required to enjoy some latkes. They're like the bigger, better older brother of hash browns, and that means that they go perfectly with eggs (and donuts) for breakfast any time! Donuts and latkes, you say?? Well, they're both Channukah foods, because they're both fried in oil, and jelly filled donuts are preferred because the raspberry filling signifies the blood of the Greeks slain by the Maccabees. I just made that last part up. Jelly donuts ARE a Channukah thing though. But let's get back to the point, which is that fried foods are amazing any time of year!
This was my first time making latkes from scratch that I really loved. I have made a stab at these delicious fried pucks of potato before and wasn't thrilled. It seems to me that my previous mistakes were: 1. I didn't soak the potatoes in really really cold water to separate the starch for long enough, and 2. these need a lot of salt. Like put in what you think is too much, and then add a little more. They'll be delicious. I promise.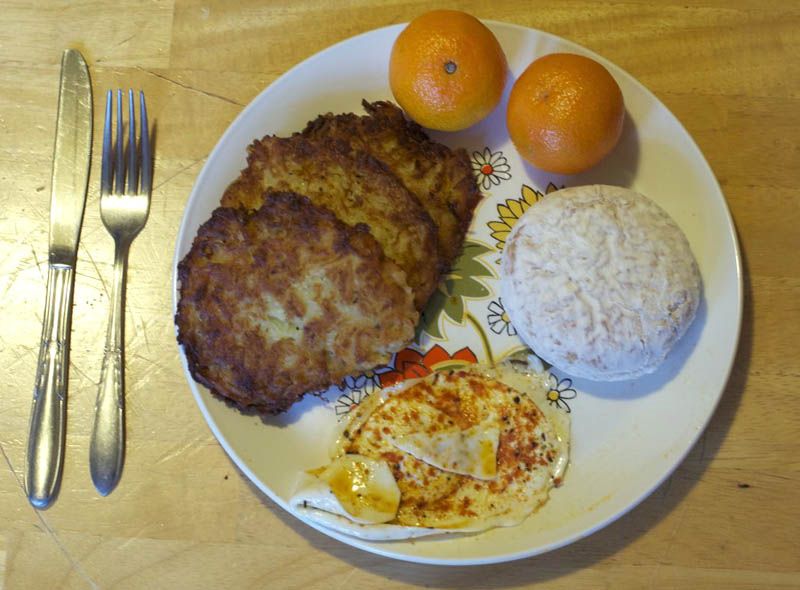 All the necessary food groups! savoury fried stuff, protein rich fried stuff, sweet fried stuff, and seasonal sweet miniature fruit! I haven't tried frying clementines. Doesn't mean I won't, but.... no, I won't.
Ingredients:

4 large russet potatoes, peeled
1 small white onion, finely grated
2 large eggs, lightly beaten
3 tablespoons all-purpose flour
1 tablespoon coarse salt (I used 2 Tbs, and while that's certainly on the salty end, 1.5 would do nicely)
Freshly ground black pepper
Vegetable oil, for frying
Applesauce – optional
Sour cream – optional
Method:
1. Preheat oven to 200 degrees. Shred potatoes using the large holes of a box grater into a large bowl of ice water. Alternatively, place half the potatoes in the bowl of a food processor fitted with the shredding disk attachment and process until shredded. Repeat process with remaining potatoes; transfer to a large bowl of ice water. Using a strainer or slotted spoon, transfer potatoes, reserving liquid, to another large bowl lined with a clean kitchen towel; gently squeeze dry.
2. Set reserved liquid aside for 10 minutes to allow starch to sink to the bottom; carefully pour liquid from the bowl, reserving milky residue (potato starch), and discard. Transfer potatoes back to bowl with potato starch.
3. Add onions to bowl; stir in eggs, flour, salt, and pepper.
4. Line a baking sheet with paper towels; set aside. In a heavy nonstick skillet, heat 1/4-inch of oil. Spoon scant 1/2 cup of potato mixture per pancake into skillet, working in batches and taking care not to crowd the skillet.
5. Fry on both sides until golden brown, 4 to 6 minutes. Transfer to prepared baking sheet to drain; transfer to oven to keep warm. Repeat process with remaining potato mixture. Serve hot with applesauce, sour cream, or a jelly filled donut (because donuts are delicious and culturally deemed mandatory [okay, simply strongly suggested, but I just gave you an excuse to eat a donut, are you really going to argue with me?!])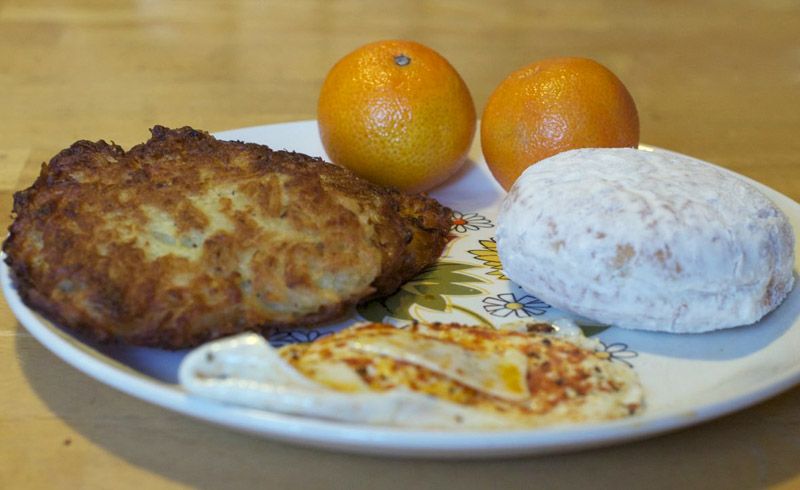 And there you have it! For a less traditional serving, latkes go great with a similarly salty meat product known as bacon (actually probably any kind of pork. I'm sorry, Bubbie!). Serve 'em up hot with whatever fixings your heart desires, and enjoy brunch, kiddies!!
So, what are you making for brunch this Sunday?