Hello Friends.
I know that the long weekend was already 2 weeks ago, and I haven't a whole lot to even show for that time, but what I lack in showing I hope I can make up in telling.
I had a lovely long weekend up in Muskoka, at E's friend's parents....cottage? Collective of cabins? Renovated-once-was-a-mini-resort? This little oasis was on an island on Lake Muskoka, so we had to be ferried in, which I thought was GREAT. I've always dreamed of having a cabin on my own little island, and I could sit and read books with my feet in the water, and walk around my whole personal island in about 3 minutes flat. Well, this wasn't a personal island, but we certainly felt closed off from the rest of the world (save a few runaway dogs who decided we were more fun than their humans).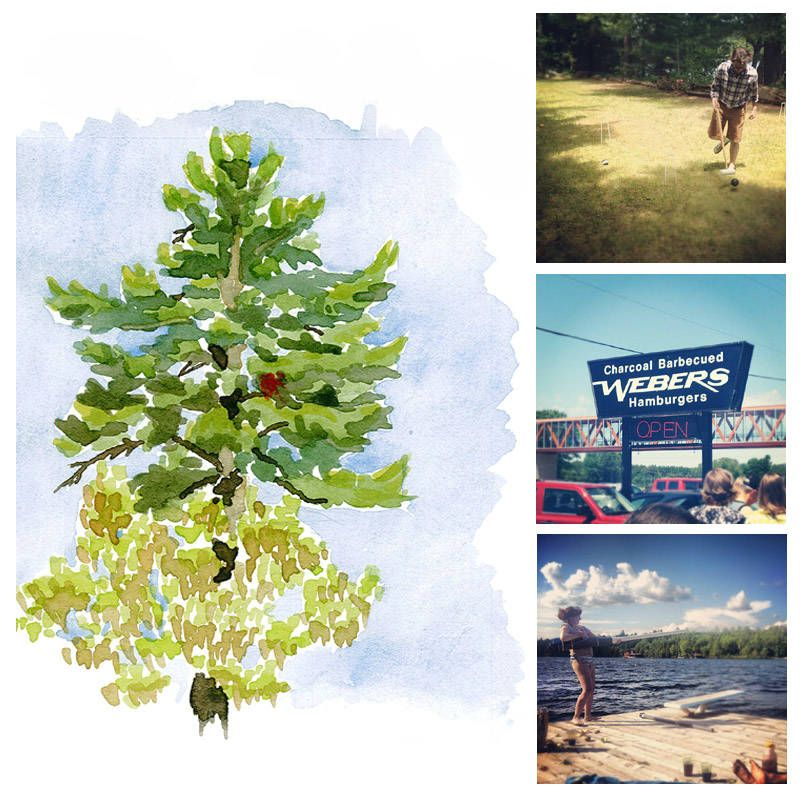 watercolour on the dock / croquet match from hell / burgers on a train car / shooting the potato cannon
I spent my weekend laying in the sun, doing a bit of swimming (I hadn't been in about 4 years, and hot damn I wish the NOTL community centre had a pool now!!), painting, playing croquet, meeting new people, roasting marshmallows, and of course, eating in general. Also beer. Beer from noon till night, and I was never more than simply hydrated. Can alcohol burn off if it's still in your body? And okay, maybe there was a little buzz in that 4 hour croquet game, but after the first 2.5 hours, that was more necessary than anything. Toward the end of the game most of the teams were cheering for other people, just so somebody would win and we could all stop playing already! Of course I've decided I need a croquet set for my front lawn now. It won't be regulation sized, but so help me, it will be fun anyway!
The weekend was spent with about 15-20 other people, with a couple people I knew well, and a whole lot of people I knew a bit or not at all. It's a situation I've found myself in a lot this year, and that I suspect I will find myself in pretty regularly from now on. In the last year, not only have I tried to establish myself in a very tight knit group of long-time friends as E's girlfriend, but I've also moved and started my career at a theatre company that is equally tight knit. While the sense of community is something that I love about theatre, being the new person can be really hard. You don't know how the company works, you're low on the food chain, you're intimidated to death by the high profile people you work with on a regular basis, and in my situation, I'm working in the design department which is sequestered away behind a copy room where nobody can find it (sometimes, this comes in handy. Like for personal jam/dance parties. Made working Christmas Day SO worthwhile!!).
Being the new girl, you can feel a push to be more outgoing than you are, to be louder, more exciting, more...things that you're really not. Being an introvert can make making friends a harder experience, but at the same time, you meet people little by little, and you establish relationships that don't need you to be anything more, or else, than you are. You fill your down time with little projects, because really, nothing is stopping you from going to pub night but the fact that you never really liked pub nights in the first place. And that's okay. The people who think you're a weird loner will go ahead and think it, and you won't put yourself in a situation you don't fancy to please people who you don't really want as your buddies anyway.
And maybe next time you see that girl with the really cool belt at Timmies you'll compliment her, and start being the new girl all over again.
...We get that I'm saying you but I really mean I, yeah? Sometimes I like to sound more like I'm dishing sage wisdom than getting all confessional-like. But you (You AND I) know what's really up.
--Erin