I've been a vegetarian for... oh, 8.5 years now, and recently I've been feeling like I'm relying a bit too much on soy products to make simple, delicious and nutritious meals for myself. While this worked pretty well in University (especially since my omnivore roommate and I typically cooked "family style", so my dinners had to be accessible to meat eaters.
Plus, you know, generally those meals turned into carb-loaded deliciousness. Which I love. But I'm trying to diversify a little bit.
Anyhow, a little while ago I finally made Eggplant Parmesan for myself, and it was a revelation. So crispy, cheesy, and with some spicy sauce...mmmm! I had intended to do the same yesterday, but my grocery store was all out of Eggplants. And the Zucchini was looking pretty sad. But I figured I'd be frying it anyway, so I brought two home. Also, Asparagus was on sale, and for the first time, oh, ever, it caught my eye.
I need to tell you something. I have lived the majority of my life thinking that I hated asparagus. Like, truly loathed. It was the vegetable my step-mother made all the time when I was growing up, and to me it became synonymous with bitter, chewy, stringy, brown-green grossness.
Turns out I'd just been eating improperly cooked asparagus, because this was delicious. And such a gorgeous vibrant green! I mean seriously, how could you not just dig in?!
Check out some photos and my recipe after the jump!
Zucchini Parmesan (the-easy-after-work-version)
1 zucchini per serving
1 jar pasta sauce (I like a bit of spice)
shredded 3 cheese mozzarella blend
grated parmesan
olive oil
salt and pepper
olive oil
1 egg
Panko bread crumbs (personal preference)
oven safe ramekins for baking
1. Begin by slicing the zucchinis on a bit of an angle, slicing them about 1/2" thick. place the slices on folded paper towel, in a single layer, and sprinkle liberally with salt. Let sit for 20 mins or so, pat dry, flip and repeat.
**Salting the slices helps to remove excess water that can make frying difficult and dangerous, as well as making the zucchini more tender.
2. Heat your oil in a pan on a medium-high heat. Use enough oil to have all the slices sit in it, with the oil just barely coming up the sides.
3. dip each slice in egg, and cover in Panko.
**you should preheat your oven to 350 at this time.
4. fry all the zucchini, turn over and remove as they each become done. I remove them to some folded up paper towel to drain.
5. Assemble your ramekins for baking. I did: spoon full of sauce, 2 slices zucchini (or whatever size fits sensibly as a layer), mozzarella, zucchini, sauce, mozzarella, zucchini, mozarella, parmesan.
6. Toss those suckers in the oven and forget about them for 15 minutes. After those 15 minutes, turn the heat up to 400 for 5 minutes. I like the cheese a little crispy!
While the Zucchini was in the oven, I prepared my Asparagus.
1. Rinse and snap off the tough ends of the asparagus.
2. Bring a pot of water to boil
3. Boil the asparagus for 3 minutes
4. Drain the asparagus and toss in a cold bath to stop the cooking process. they only need to sit in the cold for a few seconds to give them a bit of a shock.
5. Place asparagus in a bowl, drizzle some olive oil, and toss. Season with salt, pepper, and lemon juice.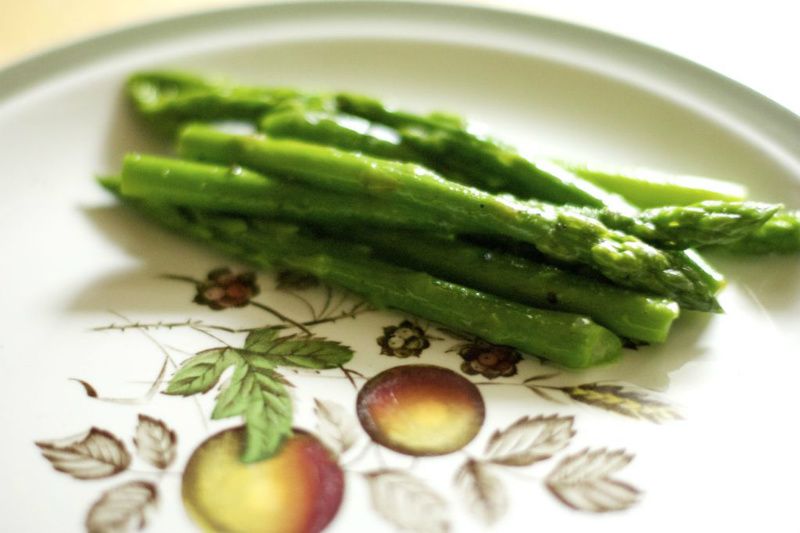 Check out the plates my furnished place came with. Clearly, this is some fine dining.
Eat it all up, it's good and it's good decent for you!!
Bon Appetit!
--Erin