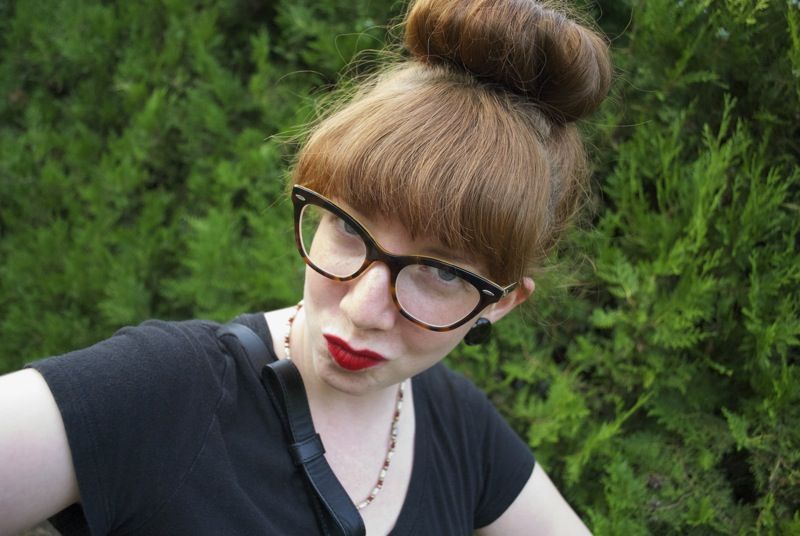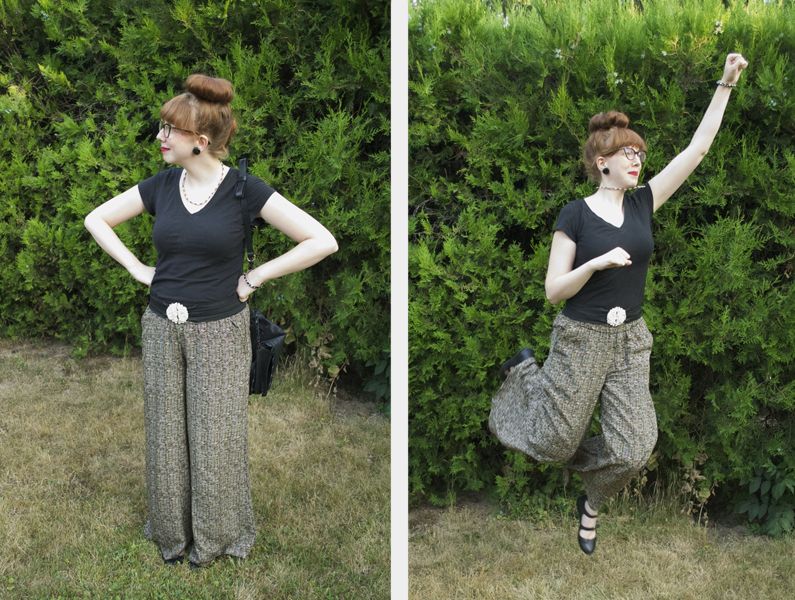 I ended the night by flying off to punch some crime right in the kisser.
The Deets:
T-shirt: Forever 21
Belt: Urban Outfitters
Silk pants: Anthropologie
Shoes: Jeffrey Campbell
Bag: See by Chloe
Earrings and Necklace: vintage, gifts
Bangle (no close-up, argh!): Betsey Johnson
It was a busy weekend in Niagara-on-the-Lake!! The Shaw Festival had its second round of openings, and you know what that means: dress-up time!
This was my outfit to Friday night's opening of Come Back, Little Sheba, playing at The Royal George Theatre. It was the first time I'd seen the set complete with dressing, and it was breathtaking. I get a real kick out of seeing the life size sets that I've built models for, and this one was exceptionally astounding! Designer Christina Poddubiuk created an abstracted interior of a late 1940's home, with not so much walls as beams and posts, and ornate white windows hanging all over the place. The set was primarily black and white, with a bit of grunge that you could feel hadn't been washed away in years; the product of the lack of house keeping by Lola, expertly performed by Corrine Koslo (who won my affections with her performance in last season's Drama at Inish). The washed out colours of the set and costumes of the house's permanent residents Lola and Doc contrasted nicely with the colourful outfits of their boarder Marie, who becomes a point of personal interest to Lola and Doc both; particularly the matter of Marie's also quite colourful love life.
As with many domestic dramas, the play is about many things, but at the heart of it, the story is about loneliness.

The performances were all outstanding, and I was even captivated by the scene changes. Now that's some good theatre! But of course, it could be nothing short of incredible when it has been directed by the festival's Artistic Director Jackie Maxwell. Definitely a show not to miss, if you're making the trip (or are already in!) the Niagara region.

Now, can we talk about these pants for a second? I've never pictured myself enjoying wide legged pants, I figured they would just make me look...well, wide too. Not so! I was pretty pleasantly surprised when I put these on at the store on a whim and felt like I looked taller, even (not well reflected in these photos, hah!). But best of all: the pants are lightweight silk charmeuse lined in a bamboo jersey. THEY FEEL LIKE PAJAMA PANTS. This is probably not helped by the elasticated waist that I cover up, but basically it's only the inclusion of proper pockets that distinguish these as day clothes.
And I love it.

Sleep walkin' through life never felt soooo good.

--Erin