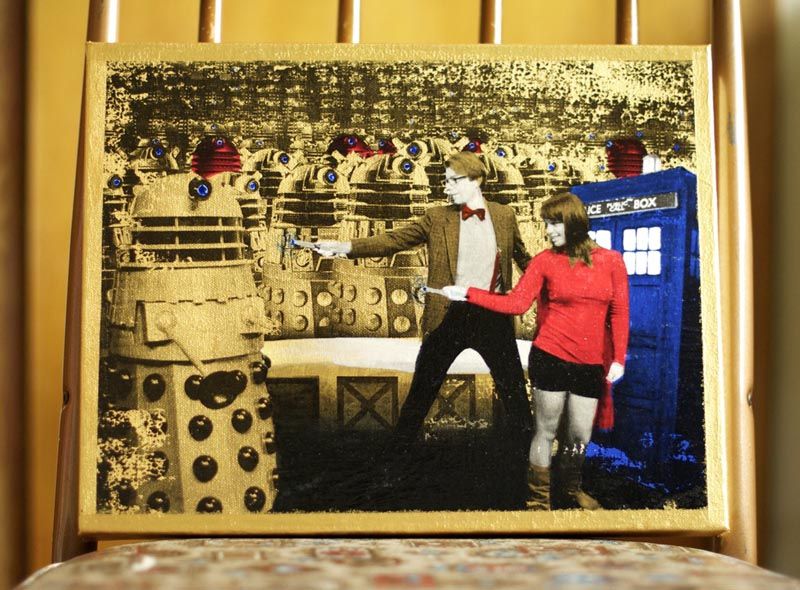 I finally finished my first simple goal before 2013!! I made a photo transfer onto painted canvas for my childhood best friend and her new husband. I did some photo transfers over top of colours back in high school, which is where I get the remixing element of this craft skill in. I had never attempted anything on this large a scale before (11"x14"), nor had I worked with pockets of colour isolated in a plane before, which meant that I had to plan very carefully so as to keep the image lined up properly. I liked how a bit of the shift looks on this, I think it gives it a really strong pop art feel. To keep details popped, I painted in a few elements after I had transfered my image. This kept details like the Sonic Screwdrivers looking clearly silver, and made the Daleks' eyes stand out.
As Elsie explained in the
photo transfer post on A Beautiful Mess
(which differed from my method slightly. DIY to come!), the result is perfectly imperfect, with some parts rubbed away. At least on mine it rubs away to reveal bright gold paint!
So to recap, here are the Simple Goals Before 2013 I have yet to complete:
--Erin
This post is part of my Four Simple Goals before 2013, an exercise in list making and achieving proposed by Elsie of a Beautiful Mess. See the original post HERE and check out my post about my own goals HERE.